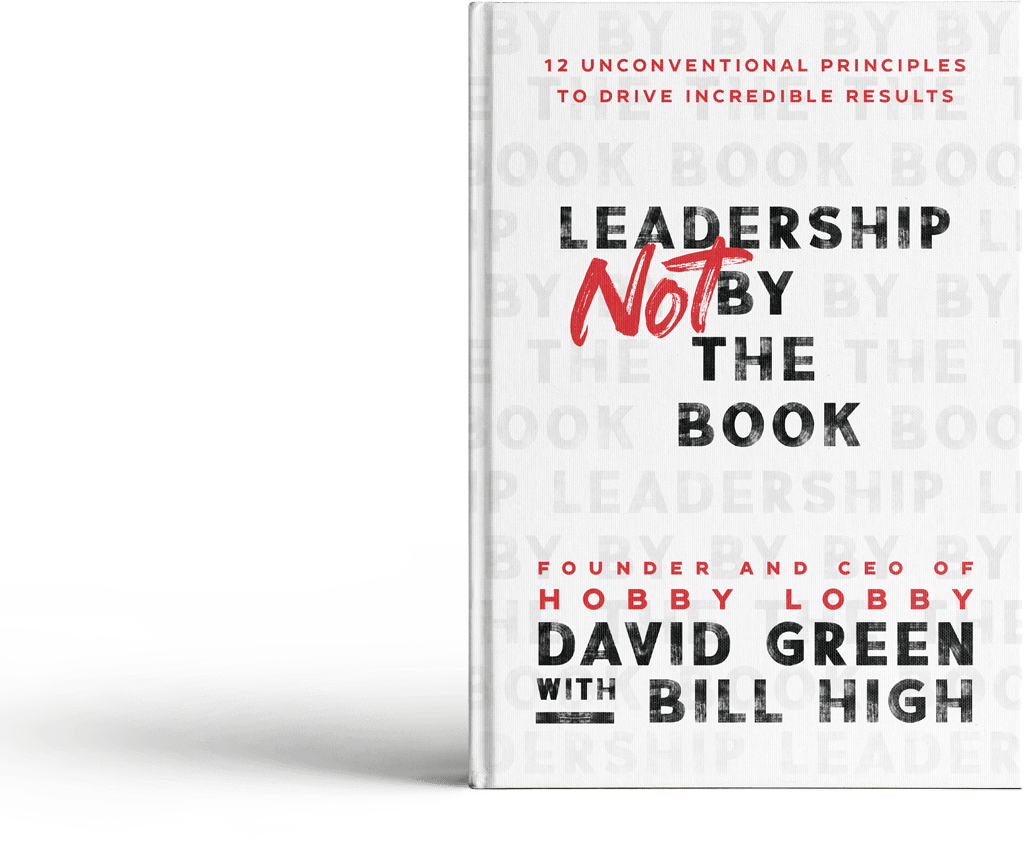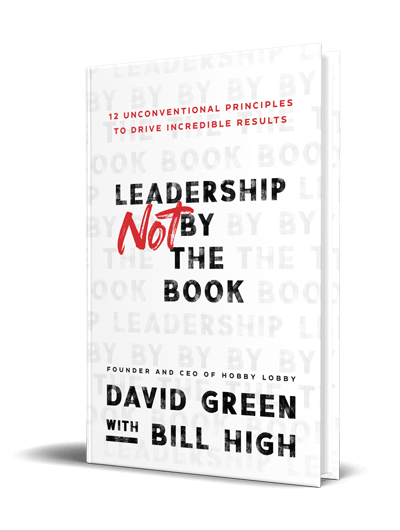 David Green, Founder and CEO of Hobby Lobby, Shares 12 Unconventional Principles to Drive Incredible Results
Whether you lead a business or a nonprofit, a small business or a multinational corporation, a start-up or a department, this book will show you how breaking the conventional "rules" of business may be the best decision you ever make. This transformational book is for leaders and those that work for them or aspire to become one.
Order your copy of "Leadership Not by the Book" now and receive a FREE audiobook!
12 UNCONVENTIONAL PRINCIPLES TO DRIVE INCREDIBLE RESULTS
David Green shares 12 unconventional practices that drive the phenomenal success of Hobby Lobby. These core principles can open doors to greater success in business, in life, and will raise up and encourage the next generation of leaders.
In 1970, David and Barbara Green took out a $600 loan to begin making miniature picture frames out of their home.
Today, Hobby Lobby has almost 1,000 locations and $8 billion in annual sales.
The company is privately held, debt-free, and gives 50% of its profits to fund charitable initiatives all over the world.
See how David has applied Biblical principles and prioritized faith, family, and care for his 50,000 employees.
Whether you lead a business or a nonprofit, a small business or a multinational corporation, a start-up or a department, this book will show you how breaking the conventional "rules" of business may be the best decision you ever make.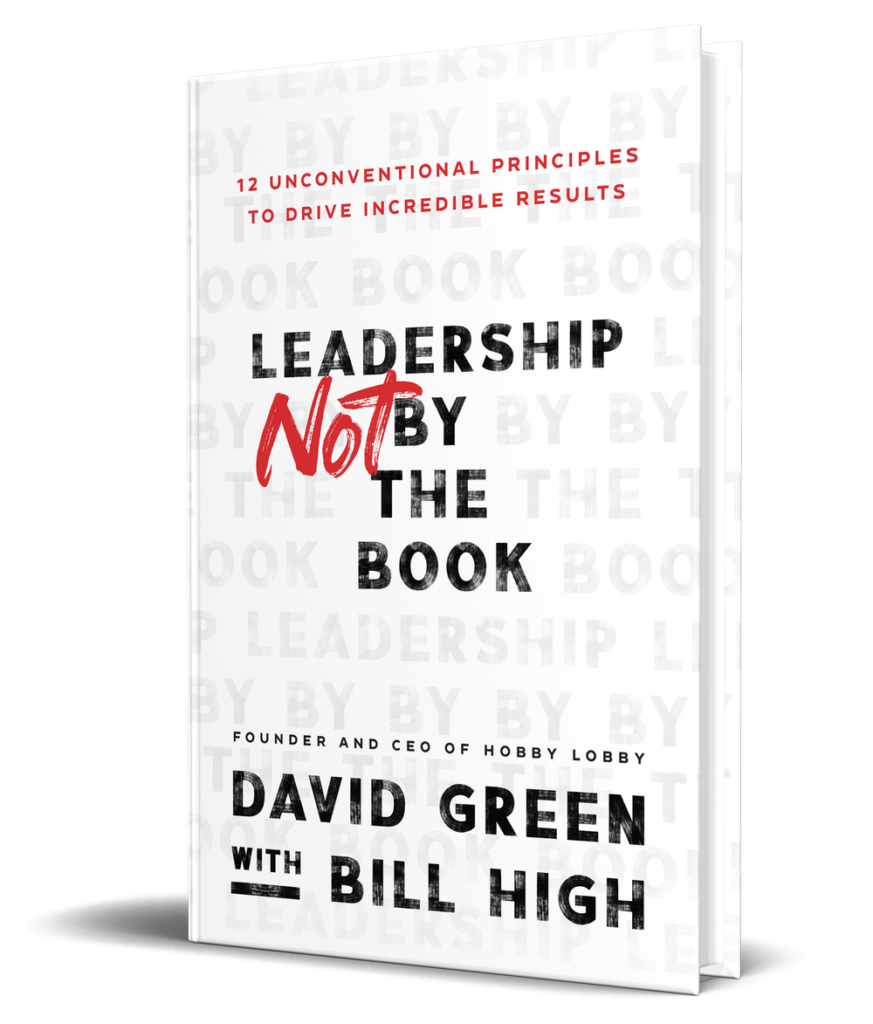 Jon Acuff, New York Times bestselling author of Soundtracks
An alternative title for this book could have been Billion-Dollar Wisdom because that's what's inside. It's one thing to run a business for a year or two. It's an entirely different thing to lead a multibillion-dollar business for decades. Whether you've got a small team like me or a big dream of what could be, you'll always feel like you've underpaid for the amount of knowledge that's packed inside this book.
Marcia Taylor, CEO/Founder, Bennet Family of Companies
In my many years as a female CEO in the male-dominated trucking industry, I can testify that David Green's latest book, Leadership Not by the Book, is a refuge for those wanting to be lead by God's word and Holy Spirit and NOT by the ways of the world.
Dr. Tony Evans, president of The Urban Alternative, senior pastor of Oak Cliff Bible Fellowship
I've written and spoken about God's Kingdom agenda as His visible manifestation of the comprehensive rule of God over every area of life. I can think of no better person than David Green to write about God's manifestation and the rule of God in the arena of business. This book Leadership Not by the Book, is a must-read for those desiring to live by God's Kingdom agenda with their business, their ministry, and their leadership.
Dr. David Jeremiah, senior pastor of Shadow Mountain Community Church, El Cajon, CA; founder and CEO of Turning Point Ministries
Like David Green, I've learned by leading my own organization, Turning Point, that if you follow conventional wisdom, you'll land in conventional places. But if your leadership is by the Book and you are careful to obey, then you'll be amazed by the places God will take you. I highly recommend this read.
Chris Hodges, senior pastor of Church of the Highlands, author of The Daniel Dilemma and Out of the Cave
God often calls leaders to follow His guidance rather than traditions and trends–and my friend David Green is a prime example! In Leadership Not by the Book, David explains how leading by the Good Book, the Bible, results in some unconventional decisions and surprising methods to exceed anything produced by human efforts alone. His fresh perspective and innovative insight make this book a must-read for every leader.
Robert Morris, senior pastor at Gateway Church, bestselling author of The Blessed Life, Beyond Blessed, and Take the Day Off
For years, I've watched in awe at how Hobby Lobby, a store that's open only six days a week, has had astounding growth and success. The financial results have been remarkable, and from this insightful new book by my good friend David Green, you'll learn how this business achieved such incredible success. He shares everything you've ever wanted to know about one of the largest and most successful private companies in the United States. If you're ready to take your leadership and your business to the next level, this is the book for you!
O. S. Hawkins,PhD, former pastor of First Baptist Church in Dallas and bestselling author of The Code Series of devotionals with over two million sold
In a day when there are leadership books written by those who never really successfully led an organization and church growth books written by those who never spent time pastoring a church, it is refreshing to discover this new volume by David Green with Bill High whose tried and true principles have actually been beaten out on the anvil of personal experience. This is a formula that works because it is God centered, people focused, and filled with commonsense application. In fact, across the years the Green family has been characterized by using common sense. But what sets them apart is that they also have the uncommon sense (faith) to believe God can still make the impossible possible. This is a book on leadership NOT by the book. And yet, at the same time, it is a volume on leadership by THE Book . . . of all books. Read it and reap!
Mike Sharrow, CEO, C12 Business Forums
If you want to learn the secret for successful significance, not just significant success, this book is a gold mine. The opposite of theory and convention, David shares the incredible story of scaling from unlikely startup to multibillion-dollar powerhouse with the decision points, principles, and leadership paradigms anyone is invited to live by. The world would be wrecked by the blessed wake that would result if business leaders read and heeded this invitation!
Matt Brown, evangelist, author of Truth Plus Love, founder of Think Eternity
There are some people that when they talk, you listen. David Green is not only one of the most successful businesspeople on the planet, but he lives by a different code. He walks with godly wisdom in everything he does, and it sets him apart and gives him an authority. In Leadership Not by the Book, he shares a lifetime of principles that have guided him. Some have helped him be unusually successful, and some have shaped his perspective to enjoy the journey a little bit more. In all of these, you will find pure gold advice that can dramatically change your own journey.
Rev. Samuel Rodriguez, president of NHCLC, author of Persevere with Power, executive producer of Flamin' Hot
If you look at the life of Christ, you will see that He turned traditional religious practices on their heads. He left the experts dumbfounded and changed eternity's entire narrative. In Leadership Not by the Book, David Green and Bill High take a lesson from Christ's way of life by turning traditional leadership upside down. Follow the practices found in this book, and your life as a leader in business, home, and faith will be transformed because you will no longer be conformed to the patterns of the world.
Leaders
Do you want to have a lasting impact on your business, your community, and work/life balance with your family? Are you looking to unleash your untapped leadership potential? Leadership Not by the Book challenges you with twelve leadership principles not typically taught in business school. Learn what it takes to be a next-generation leader and gain new insight to navigate your career path, family relationships, and future legacy.
Those who work with leaders
Do you want to learn how to utilize your passion, your voice, and your natural talents to best support your manager and team? Do you see yourself as an integral part of your company? Leadership Not by the Book reveals how to work your way up from the ground floor of business through management and beyond. Find your niche, lean into your gifts, and support those in leadership while learning who you are and all you have to offer in a fresh, new way.
Retirees
In this new season of life, are you looking to invest your time, money, and talent in a new way? Are you excited by the prospect of building out a lasting legacy that continues to grow and flourish in your golden years? Leadership Not by the Book will inspire you, challenging you to re-examine your vital role and purpose within your family, your church, and your community.
Entrepreneurs
Are you a visionary? Does launching your own business and charting your own course excite you? Step into your future. David Green and Bill High have been there done that. Their wisdom, humility, and personal stories will shed light on your own journey of launching your business. Leadership Not by the Book is a blueprint for those who create, build, innovate, and influence.
Executives & Managers
Do you want a better line of communication with your team members? Are you wondering how to lead and care for your team in ways that encourage company growth while stimulating individual learning? In Leadership Not by the Book, discover how to knit together a community of co-workers who care about each other, synergize as a team, and enthusiastically support the company's vision.
Moms and Dads
Are you wondering what the difference is between an inheritance and a legacy? Are you thinking long-term when it comes to investing in your family, your marriage, and your future? You will want to reprioritize your life after reading Leadership Not by the Book. David and Bill will inspire you to look at your work/life balance through a "God First" lens: God first…family next…and career last.
Aspiring Leaders
Do you dream about leading a powerful team and transforming business as we know it? Do you have a passion for change and seeing others succeed? Leadership Not by the Book reveals the heart of leadership—helping you become the leader you long to be by using your gifts to help others, giving of your resources, engaging in creative problem-solving, and committing to relationship investment.
College Students
Are you ready to begin the adventure of a lifetime? Do you dream about a future where you use your unique talents and operate in your giftedness? David Green found his "one thing" – his passion for merchandising – as a teenager. It led him on a journey of discovery. Leadership Not by the Book drills down with lessons of leadership, generosity, and relationship building. Begin your own journey of discovery!
Everyone
Are you looking to impact the world around you? Do you want to thrive in your work life and home life? Do you want to lead a life of passion and generosity? Then Leadership Not by the Book is for you! David Green shares his wisdom, life experience, and unique insights about living a life of purpose and generosity. You will be challenged and inspired to do the same!